Although its territory reaches only 65 square kilometres, Latvia is a country that goes big on technologies and provides a rich environment for start-ups and young businesses. Our colleague, Lilita Beķere from Numeri, elaborates on the Latvian business environment, its powerful workforce, the advantages of their company and why they joined the Accace Circle business community.
What do you consider to be the biggest opportunities on the Latvian market at the moment? What is the best thing about Latvia?
Not only has Latvia been historically known to be a place of spectacular scenery, but also has and currently is recognized as a well-positioned export and tech country (e.g. the historical VEF and Alfa factory in Riga, port cities such as Liepāja, Riga, Ventspils and booming regional science-based and tech talent hubs nowadays). The environment is especially fruitful for new and bubbling businesses, ideas, investments and start-ups, due to the highly digitally educated labour force and the society's vast bilingual and trilingual knowledge, which steers the whole country towards rapid multicultural digitalization and technological innovation. Latvian business incubators are ever-so hungry for more and more fresh solutions, thus entering the market with novel products and services or different variations for current products and services is simple – the establishment of a company is fast, cheap and digitalized, which sets a successful soil for various local and global entrepreneurships – communication with the state institutions is electronic and the advantage of outsourcing accounting, payroll and HR administrative services means that not a single accountant, payroll accountant or HR specialist has to be employed, and the company management can focus on developing its business and relationships with core employees.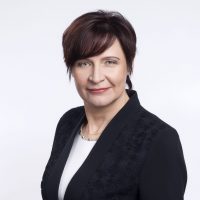 Lilita Beķere
Partner
Numeri | Latvia
What are the strengths of your organization? What do your customers value most about your cooperation?
As one of Latvia's top outsourcing accounting companies Numeri has a base of nearly 300 clients, which are serviced by professional, qualified and flexible accountants, payroll accountants, HR specialists, tax advisors and legal counsel, who are fluent in Latvian, Russian and English with occasional knowledge in Swedish, German and French. The accountants are reliable professionals who carefully analyse the financial situation or figures and provide advice accordingly. Numeri accountants are skilled in Horizon, Microsoft Dynamics, SAP, Oracle, Scala and other ERP software and are fully compliant with the GDPR privacy and data processing enactments. Clients appreciate our individualized approach and punctuality and can rely that the service will be provided in a timely manner and by the highest standards. Besides, the clients can receive many services in one place, starting from accounting or payroll accounting and ending with legal services. Numeri is a member of the American Chamber of Commerce in Latvia, the Norwegian Chamber of Commerce in Latvia and the Latvian Association of Accountants among many others, which allows us to be up-to-date with the newest practices and best methodologies.
Why did you join Accace Circle? What makes the community different from other associations?
Accace Circle itself is a multicultural community which allows all its diverse members to be united by common goals, ideas and purpose, making its partners to strive for the best. Numeri has joined Accace Circle in order to explore and expand our experience because the community offers a modern vision in today's ever so changing world.
Numeri is one of the leading companies in its field in Latvia, providing accounting, payroll, tax and financial consultation services. Numeri operates in three Baltic States and provides daily services in Latvia to nearly 300 local and foreign clients engaged in various businesses.
Website: www.numeri.lv