Stretching on the West side of the Iberian Peninsula, Portugal is a country full of opportunities of investment, innovative technology and unique natural environment. Our colleague, José Ramalhete from Collegium, goes in-depth on the benefits of the country, its innovative mindset, the economic climate, their company's unique approach and what they value most about the Accace Circle business community.
What do you consider to be the biggest opportunities on the Portuguese market at the moment? What is the best thing about Portugal?
Portugal, one of the world's most ancient nations, is experiencing extensive and dynamic changes. From the fifteenth to the seventeenth century, Portuguese discoveries were responsible for important advances in technology, nautical sciences, cartography, astronomy and ship building. Five centuries later, Portugal is writing new pages of its history.
Our country is the homeland of companies that develop some of the finest technologies that are impacting our world. But our profile also goes beyond innovation. It is also made of recognition that some of the best traditional products have Portugal as a birthplace. For example, Portuguese wine brands and olive oil brands are among the best in the world.
Portugal is also a safe country with great logistic infrastructures, advanced communication systems, and a friendly economic environment. These are some of the reasons why many world-leading companies are choosing Portugal to invest into.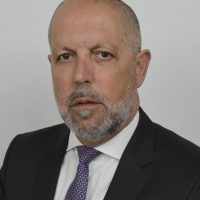 José Ramalhete
Senior Managing Partner
Collegium | Portugal
Furthermore, Portugal is not only a good country for investment, but also a most desirable place to live. A place to visit and enjoy. You can find here a safe, environmentally responsible, privileged nature, rich leisure and culture, with high quality healthcare facilities. Portugal is blessed by abundant sunlight and warm temperatures that, certainly, makes you feel motivated and productive.
The success of Portugal as an investment destination is based on the country's positive approach towards international business. Portugal offers a strategic location, access to key markets, skilled human resources, competitive costs and top infrastructures.
What are the strengths of your organization? What do your customers value most about your cooperation?
Collegium was born from the motivation of the founders to create in the Algarve a reference offer in what concerns a complete set or services either to local, national or multinational companies, as well as to individuals, investors or simply citizens with their tax obligations. That set includes accounting services, monthly payroll, fiscal and accounting advisory services; audit services; tax compliance, tax planning and verification of tax returns; consulting in the management areas, information systems and human resources; preparation of business plans, financial advisory services, including merges and acquisitions, company's recovery, project finance and management outsourcing.
We have offer services tailored for a client, addressing their real needs. Collegium presents itself as a company aimed to render superior level services for companies and individuals, consolidated in competent professionals whose main goals are always the complete and full satisfaction of the clients' expectations.
We work every day to meet the needs of our customers, always trying to be a step ahead of problems instead of having to resolve them; to improve and continuously innovate in order to exceed customer expectations through an adequate response to their needs, aiming for their complete satisfaction and loyalty.
Our customers see us as reliable partners for their business and they trust us. This is our best reward.
Why did you join Accace Circle? What makes the community different from other associations?
We have worked with different international networking associations and we found in Accace Circle a different approach.
Creating a global business community of like-minded companies cooperating to bring value to its members fits what we were looking for. We value the spirit of friendship and well-intended cooperation among all community members.
We consider that better services can be delivered to clients through Accace Circle unified processes and all the members will benefit from it.
Collegium provides integrated BPO and consulting services ranging from accounting and management solutions, payroll and HR administration services and comprehensive tax consultancy services. Since 1994 Collegium has become a trusted partner for companies that are new to the market or for well-known international brands doing their business in Portugal and the region.
Website: www.collegium.pt