Lithuania, a country with a rich historical past, offers the perfect conditions for both local and global companies thanks to its openness to innovation and increasingly digitized society. Our colleague, Rūta Mozūrienė from Numeri, elaborates on the country's welcoming business environment and high-quality services; the strengths of their company and why they joined the Accace Circle business community.
What do you consider to be the biggest opportunities on the  Lithuanian market at the moment? What is the best thing about  Lithuania?
Lithuania is a small country in the north-eastern part of Europe, which prides with its intelligent and brave people, beautiful nature and one of the most impressive capitals in Europe, Vilnius. Our country is strategically well located and has become increasingly attractive for business development and investment. Lithuania is attractive for investors because of its stability, safety, transparency and corresponding to all the requirements and standards set by European Union. Lithuania follows global trends in the field of advanced technologies and keeps pace with all the different innovations.
International companies entering the Lithuanian market can expect the highest quality services, reliable partners, and attractive business environment.
UAB IMG Numeri is a medium-sized accounting company. There are many large international accounting companies operating in Lithuania. However, we don't feel a big competition at the moment. Although the economy growth is slowing down, the services we provide are becoming increasingly popular.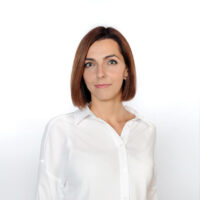 Rūta Mozūrienė
Director
IMG Numeri UAB | Lithuania
What are the strengths of your organization? What do your customers value the most about your cooperation?
The greatest strength of an organization is its people, those who create in it, share their ideas, work directly with clients and build long-term relationships with them. Our organization is no exception. We have a strong team of professionals who have accumulated many years of experience in their field.
We believe that our clients feel calm while entrusting us with their finances. We are a reliable, experienced, and growing team of professionals. Every customer is important to us. We seek to do our job accurately, thoroughly and quickly. In the current market conditions, clients want to have the latest financial information about their companies, and we try to help them.
Why did you join Accace Circle? What makes the community different from other associations?
One of our goals is to grow as an international accounting service provider. Naturally, we are trying to establish a durable and solid partnership with our international colleagues. Accace Circle is a global BPO business community. They are an attractive partner due to their activities, modern and intensive communication solutions. We believe that all these factors will help to achieve good results. Therefore, we hope that our cooperation will continue successfully and for a long time.
Well-prepared and thought-out financial transactions are the basis for each company's success, and accounting is like the heart which supports a company's life. IMG Numeri provides a full range of accounting services in Lithuania, including payroll and tax accounting services. It is their firm belief that successful long-term cooperation is determined not only by mutual trust and understanding of each other from half a word, but also by a real interest in the success of the cooperation partner. 
Website: www.numeri.lt